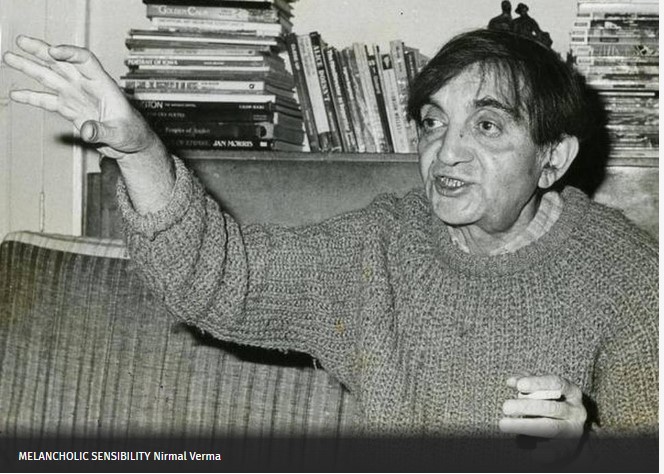 Celebrated writer Nirmal Verma was a sophisticated, nuanced and complex thinker who undertook an exercise in civilisational discourse.

Nirmal Verma was a very cultured, nice and warm person. Even in his seventies, he was always very well dressed and retained his boyish charm. Conversations with him were seldom banal and one found him intellectually a most engaging interlocutor who could at times be exasperating too. In the last decades of his life, his world view underwent nearly a fundamental change and he veered towards the far right in his reflections on Indian society, its history and culture, and the philosophical significance of the millennia-old Indian experience. But his intellectual honesty and sincerity were never in doubt. Nor was his formidable contribution to Hindi literature as one of its foremost fiction writers and thinkers.


On the same page
One of my most cherished memories is a conversation I had with Nirmal Verma nearly two decades ago at a party. I somehow mustered enough courage to tell him that while his short story "Parinde" (Birds) had acquired an iconic status but I really liked two other stories "Ek Din Ka Mehmaan" (Guest for a Day) and "Do Ghar" (Two Homes) much more. He took both my hands into his and warmly said, "They are my favourite too."
His 89th birth anniversary fell on April 3 and it was a strange coincidence that his elder brother Ram Kumar, who first became famous as a Hindi short-story writer and later as one of the front-ranking Indian painters, passed away just eleven days after it. It is difficult to find another example of two such hugely talented siblings in the history of art and literature.
Nirmal Verma was born in Shimla on April 3, 1929 and did his post-graduation in history at St. Stephen's College, Delhi and also taught the subject for a few years. At a young age, he became a card-holding member of the Communist Party of India and went to Prague at the invitation of the Czechoslovak Writers' Union in 1959. He stayed there for seven years and translated many Czech literary works into Hindi.
However, before he left for Prague, Nirmal Verma had earned sufficient fame as the writer of "Parinde" which was hailed by Namwar Singh as "the first work of the Nayi Kahani (New Story) movement". As Namwar Singh was also making his name as a brilliant young Marxist critic and despite resigning from the CPI after the Soviet tanks entered Hungary, Verma was still popular in leftist circles, Singh's fulsome praise placed "Parinde" and its writer at the centre of the contemporary Hindi fiction. It also set off a controversy that has not died down to this day.


The progressive writers' camp in Hindi swore by – as it still does – Premchand and his pro-people literary legacy. In all of Verma's oeuvre, only "Landan Ki Ek Raat" (A Night in London) can be placed in this tradition. The rest of his work – short stories, novels, travelogues etc., – is permeated by a lyrical yet melancholic sensibility that finds artistic expression through a consciously crafted structure and a mesmerising use of mysterious signs, suggestive symbols and fabulously rich imagery. Ever since "Parinde" was hailed as the harbinger of the Nayi Kahani movement, Verma had to face extreme adulation as well as extreme hostility from two diametrically opposite viewpoints. While the progressive camp criticised him for his "Kalaavaad" (art-for-art's-sake approach), his admirers praised him to the skies for being the most creatively gifted master of Hindi fiction.
Nirmal Verma spent many long years in Europe and, perhaps as a possible consequence of this experience, became the only major Hindi writer who represented the Indian expatriate's sensibility in his literary work as well as philosophical reflections. His constant and continuous search for his Indian roots unfortunately took his superbly creative and critical mind to an uncritical acceptance of the Indian (Hindu) traditions, belief systems and their political expressions. A man who in his short stories, novels and travelogues came through as a very modern and Westernized person chose to be just its opposite in his thoughtful, reflective essays. However, they remain eminently readable because Verma was no street-smart Hindutva vigilante but a very sophisticated, nuanced and complex thinker who was undertaking an exercise in "Sabhyata-Vimarsh" (Civilisational Discourse).